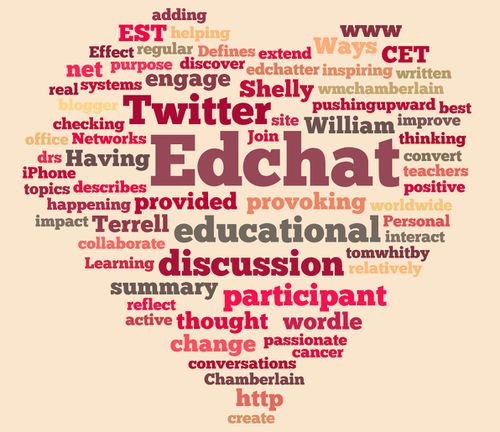 Glogster


Great way to share posters and images you've made with friends

Partager tes affiches et images avec des amis

Compartir carteles , imágenes o fotos que has hecho con tus amigos






Edmodo


Social learning environment and one of the best ways to teach with tech

Environnement d'appentissage ( microblogging dans la classe) et l'une des meilleures techniques pour l'enseignement par ex. des maths.


Entorno social de aprendizaje (microblogging en la clase) y una de las mejores técnicas de enseñanza por ej. de las matemáticas .




Bubbl.us


Free application to brainstorm online

Pour faire des rémueméninges on line

Para hacer tormenta de ideas on line



Twitter


The micro blogging service that many love or hate.

Service de micro blogging.On aime ou non...

El servicio de microblogging más utilizado






WordPress


Content publishing system. It's gone way beyond just blogging.

Plateforme de blogging

Plataforma de publicación y creación de blogs






Prezi


Innovative way to share presentations without PowerPoint

Manière innovante de partager les présentations sans utiliser PowerPoint


Innovadora manera de compartir las presentaciones sin utilizar PowerPoint




Wallwisher


An online notice board maker (or bulletin board if you choose)

Panneau d'annonces on line, mur sur lequel on peut écrire.

Muro o panel de anuncios on line en el que se puede escribir






Animoto


Make beautiful videos from images in a snap

Créer de beaux vidéos à partir de vos images et fichiers musicaux.

Crear bonitos vídeos a partir de tus imágenes y ficheros musicales



Blabberize


Make your images talk…that's right.

Faire parler vos images est facile

Hacer hablar a tus imágenes es sencillo






Weebly
Create your own website or blog, very easy to use



Créer son site web ou son blog très facilement, aucune compétence requise.

Crear una página web o un blog muy fácilmente



Flikr


Popular photo-sharing site now lets you print

Populaire site de partage de photos que l'on peut imprimer à présent

Popular sitio para compartir tus fotos, e imprimirlas si se quiere.




Slideshare


Don't waste your presentation after it's over, share it with millions!


Site de partage de présentations.

Página para compartir presentaciones




Audioboo


Easily record and share audio




Enregistrez et partagez audio facilement

Grabar y compartir audio con facilidad





VoiceThread est un service eb aunque no sepas nada sobre ellon ligne gratuit qui permet d'enregistrer des voix sur des textes ou des images

,

par moyen d'un microphone ou d'un téléphone portable




Servicio on line gratuito que permite grabar voz sobre textos o imágenes, utilizando un micrófono o un teléfono móvil.





The top real-time document creating and editing cloud-based system

Bureautique en ligne: Création de documents en temps réel, et édition

.

La burótica on line. Creación de documentos y edición en tiempo reaL




GoogleSites
Make your own website while knowing nothing about websites!

Crèer son propre site web sans rien y connaître

Crear su propio sitio web, aún cuando no sepas nada al respecto.



Diigo



Popular social bookmarking site

Site de signets ( bookmarking) très populaire

Popular página de bookmarking





GoogleEarth
View anywhere in the world anytime

Regarder n'importe quel endroit dans le monde à tout moment.

Ver cualquier lugar del mundo en cualquiermomento




Wordle


Create a beautiful aggregation of any amount of text




Création de jolies nuages de tags à partir d'un texte

Creación de bonitas nues de tags a partie de un texto



Wikis


Crowdsourcing at its finest. Like Wikipedia, Wikispaces is very helpful




Coopération généralisée

;

Wikispaces es très utile, tout comme Wikipedia.


Cooperación generalizada. Wikispaces es tan útil como Wikipedia.




Wix


Easily make your own flash-based website


Wix est un nouvel outil pour créer facilement des sites en flash et des widgets.

Nueva herramienta de creación fácil de páginas y widgets en flash




Ning


Despite a new cost-based membership program, Ning allows you to have your own social network




Ning vous permet de créer votre propre réseau social, pourl'échange.

Herramienta que permite crear tu propia red social, orientada al intercambio






Primarypad


Web-based word processor




Processeur de textes on line

Procesador de textos on line




Innovative way to organize your web visits

Manière innovante d'organiser les visites web

Innovadora manera de organizar las visitas web






Delicious


One of the top social bookmarking sites on the web




Un des plus utilisées sites de bookmarking

Uno de los sitios de bookmarking más utilizados



Myebook


Virtually publish your book and sell it




Publication et vente de votre livre.

Para publicar virtualmente y vender tu libro



Voki


Get your own avatar and even have it talk with your voice




Créer son propre avatar et le faire parler avec sa propre voix à tout moment.

Crear su propio avatar y hacer que hable con tu propia voz cuando quieras.



DoInk


Create animations using this simple website




Créer des animations très facilement.

Es fácil crear animaciones utilizando esta herramienta.






Warning Sign Generator


Make your own caution and warning signs in a flash!

Création d'un ou des panneaux d'alertes en flash

pour ensuite les imprimer ou les diffuser sur votre site.

!

Creación de uno o varios carteles de alerta en flash, para imprimirlos o colgarlos en su página



Scratch


Create and share stories, games, art, etc.

Créer et partager des histoires interactives, des jeux, art, etc... facilement grâce à ce langage de programmation.
Crear y compartir historias interactivas, juegos, arte...etc.. es fácil gracias a este lenguaje de programación.



Kerpoof


Cool way to make a movie, card, picture, and share it all

Environnement Web (Flash) très complet offert par Disney qui permet aux élèves de créer des dessins, des cartes de souhaits, des histoires interactives et même des films d'animation

Entorno web en Flash, muy completo, de Disney, que permite a los alumnos crear dibujos, tarjetas, historias interactivas, e incluso animaciones.



Tagxedo


Like Wordle but a step farther as text can be used to build bigger images




Similaire à Wordle, mais on va un peu plus loin dans la construction d'images plus grandes.

Similar a Wordle, pero va un poco más lejos si se quieren dibujos más grandes






SmartKiddies


Creative math and other educational problems to help everyone learn




Pour aider dans l'enseignement des maths et des problèmes en général.

De gran ayuda en las enseñanzas más técnicas, tipo matemáticas o problemas...



Bitstrips


Make and share your own comic strips with thousands of others




Logiciel éducatif qui permet aux élèves de créer et partager ses propres BDs sans même avoir à tracer une line.

Los alumnos pueden crear y compartir sus propios comics, sin necesidad de trazar una sola línea.



publié en anglais par les followers de #edchat, en Twitter.
Traduction Abel Carballiño.